Current Affiliates – Login Here
Can I Send You "Thank You" Checks?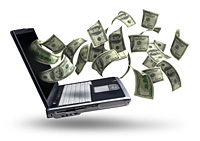 Your positive referrals of my best-selling business building programs and products can easily earn you "thank you" checks every month.
So, are you ready to get started? Sign Up Now.
Here's how it works:
STEP 1: Sign up in mere moments
It's FREE.  Just fill out the form at the bottom of the page with your contact information, and press the link to join.
STEP 2: Receive your confirmation email.
Look for a confirmation email from me. You'll want to print this email, or save it in a special place. It contains three pieces of information that you'll need later: 1) your User Name email address; 2) your unique password; and 3) the link to access the Affiliate Login Page.
STEP 3: Sign in to get your unique affiliate link!
Use the information in your confirmation email to sign in as an affiliate. You'll find links automatically prepared just for you (with your unique affiliate id embedded in them).
LASTLY: Use your affiliate link to earn passive income!
When you refer me to the people who know, like and trust you (colleagues, friends and clients) using your affiliate link and your referrals make a purchase our system automatically tracks it. When your referral invests in a commission-eligible product or program you get a big chunk of the profit!
What could be an easier way to receive passive income?
"How much can I receive, and how often?"
The minimum you'll receive is 10% and often you'll earn much more (this varies by product and promotion, but we make your referrals well worth your while). Some promotions offer cash bonuses of up to $500 if your referral purchases one of our private programs.

Unlimited earning potential. The more that you refer, the more you get to put in your purse!

Payments are paid monthly, via your PayPal account, once you earn $100 or more. Log in to your account to track your sales 24/7.
"What will I be promoting, and how?"
When you join my Affiliate Partner Program, you get access to our Affiliate Resource Center. Log in to see your:

Statistics on the links your referrals have clicked on.
Links to all of our products and programs.
Reports of your earnings and pay-outs.
Promotional text to use in your email broadcasts, newsletters, and on your website.
"Who is eligible to become an affiliate?"
You may become an affiliate program partner as long as you use ethical practices while promoting my products (no spamming! – sending emails to people who do not want to receive them), or advertising me and my brand on websites with offensive content.
"What if I have questions?"
Feel free to contact my trusted team or call 503-444-8661 for questions or assistance. They will be happy to help you!
Ready to start receiving "thank you" checks?
Affiliate/Referral Program Sign Up