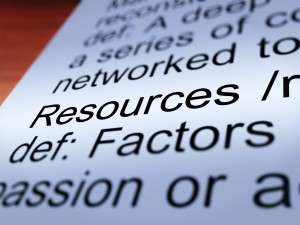 (AKA the tools I recommend and use in my own business)
I call this my Million Dollar Resource Rolodex because I believe the savings I've had using these free and low cost resources have literally saved me tons of money while successfully growing my business.
My disclaimer is that I cannot guarantee results or take responsibility for anyone else's company but my own.
You must evaluate your need for each service and how you interact with the providers.
Also, please note that some of the links are actually my "affiliate" links. This means when I refer them, I will earn a commission for referring them. This does not mean you will pay more for these services or products by using these links and it does not mean I will promote stuff I don't fully believe it to earn a commission from your purchase.
You might even get a better deal that I've set up exclusively for my clients.  I've put an [a] next to these links so that you know which ones apply.
And the ones I'm actually using on a regular basis are marked with a [DM] so you know.
To visit our growing directory of Virtual Support Professionals, click here.
Appointment Scheduling
Article Directories & Submissions
Audio Recording & Podcasting Tools
Conference Calling Lines
Customer Relationship Management Systems
Creating Programs and Products
Email Services & AutoResponders
Finance & Money
Goal Tracking
Graphics
Invoicing
Legal Resources
Video Tools
Membership Sites
Online Payment Processing/Shopping Cart
Private Label Rights Content
Sales & Marketing
Screen Capture
Survey Resources
Time Management/Productivity
[DM] TeamworkPM [a] – my hands-down favorite task and project management tool
EggTimer – online countdown timer (e.g. use to limit your time on the internet)
[DM] Online-Stopwatch
Text Expanders
[a] aText for Mac
[DM] TextExpander
Phrase Express for Windows
WiseStamp – Create Dynamic Email Signatures
Virtual Assistants & Outsourcing
Password Keeper/Security
Electronic Signature
Location Independent Business  Resources