What would you like to do with your Private Power Hour Consulting Call?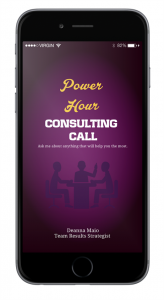 With focused, private time we can do a lot.
Here are some ideas:
Brainstorm what high-impact activities your VA and/or Team should be doing next

Upgrade your skills for getting the performance and communication you need from you team

Clarify the right structure and roles for your dream team,

Check your current growth plan for neglected opportunities
Prep you for interviewing candidates so you make the right choice
Draft the position posting for your next hire
Map out a plan to delegate more of your day to day work
Review your current team roles and see how you can get more accomplished (without paying more)
and much more.
(Of course, I don't mean we could actually accomplish all those things in a single session, but those are issues that are popular with my clients).
How we spend the time is entirely up to you. 
Private Power Hour 50 min. Strategy Session $147!
How Does it Work?
3 Steps to a Successful Private Power Hour Session
1. Click the link to enroll and Fill in your details, including your full name, address, email address, and telephone number.
2. Upon successful completion of your details, you will receive an email including details for scheduling, preparing, and getting the most out of our time together.
3. Follow the directions on this page, and we'll talk soon.
Terms & Conditions
1. You invest in your Power Hour Session today, and schedule it at any time within the next 60 days.
2. If your call is not scheduled within 60 days, you can apply the investment to any future program or training.
3. There are no refunds with this program. All sales are final.
Private Power Hour 50 min. Strategy Session $147!
FAQs
Can this meeting be recorded? Yes, the meetings are recorded, and you receive a link to download an MP3 of our time together after via email.
What do I actually get? A private zoom session with my full attention; an audio recording of the session if you wish, a follow-up email with a link to the audio of your session; other resources as needed/requested.
When do we schedule this? Your private meeting will be scheduled at our mutual convenience. I'll provide a link to my personal calendar for you to choose a time and/or my assistant can help you find a time that works for you.
Who is this ideal for? Solo businesses, small business owners, business partners, and even work groups and teams who are looking for help creating a key strategy to move their businesses forward through team, delegation, efficient leadership, systems, tools, templates and tech.