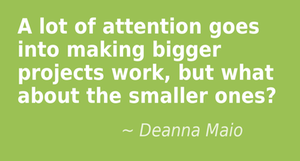 Project management involves handling several pieces of a puzzle. As a manager it is your job to make sure that there is a cohesiveness that results when these pieces come together. A lot of attention goes into making bigger projects work, but what about the smaller ones? You'd be surprised how things can go wrong quite fast.
What Is Project Management? In a few words, it is organizing projects or activities assumed by a company's clients. Your company offers a service and a client signs on to have you complete a certain amount of work for them. Now, it is the job of the project manager or management team to make sure that it gets done, on time and within budget. Project management is crucial with both online and offline companies. Someone has to stay on top of things to make sure that each person on the team knows what their responsibility is to the bigger picture. Project managers can see the longer view of things, which is a skill needed to ensure that clients are satisfied with the work.
Mistakes Often Made with Smaller Projects Everyone seems to go into hyper mode when a large project comes through the door. You know that it will require a lot more work and attention to detail, so you gear up for what may happen. Contingency plans are drawn up and people are standing by in case you need them. So, why are smaller projects thought of differently? Here are a few of the mistakes that can sink even a smaller project when it comes to managing it.
* Lack of adequate resources – If it is a smaller project than you are used to handling, at first glance it may seem like few er hands are needed to be on deck to make it all work out. However, often the project team needs to be just as varied even if it not as large as the one utilized for larger client needs.
* Short on time – A smaller budget doesn't mean that it can be done in half the time of a larger venture. It doesn't ensure that the client request won't be complex. What seemed like an uncomplicated idea when you entered negotiations with the client could become a time nightmare on second look.
* Insufficient budget – Always double check with your project team to be sure that a proposed timeline and budget are feasible before agreeing that you can do it. The last thing you want to do is to tell a client that you can execute their needs and then coming back mid-project with new figures because what they want is going to put you over the original budget. Project management involves judging what each individual project needs to make it a success.
---
And now I would like to invite you to claim your Free Instant Access to my special report…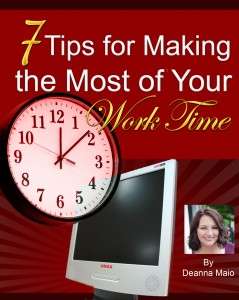 "7 Tips to Get More From Your Work Time"
Yours free when you visit http://www.7TimeTips.com
You'll learn:
How and why to identify your most hated tasks.

How to identify your biggest distractions – and eliminate them from your daily work life.

Why setting goals is critical to your productivity success.

The one thing you MUST do – even though it's counter-intuitive – to ensure greater productivity.

How to schedule tasks according to your own rhythms, so you can stop fighting with yourself and get more done.
We all want to get more done – but few of us really take the time to plan our workflow and make it happen. Take the first step with this short report and discover what it's like to be truly productive. Just visit http://7TimeTips.com
From Deanna Maio – Systems & Implementation Strategist at http://DeannaMaio.com