When you're managing a team of contractors, it can be difficult to let go of control and let them take care of the tasks and projects. However you can save yourself an abundance of time, energy and money if you implement systems to monitor and manage your virtual team's productivity. There are systems that you can put in place to help ensure that your contractors support you and your business goals.
1. Weekly meetings
The first system to consider is the process of conducting weekly meetings. These meetings can be held in a chat room where you meet with all of your team members. They can they can be held via mass email, where you ask everyone to provide you with a status update. You can also use any type of online conferencing or chat tool. The meeting should be structured so that you don't spend your entire week talking back-and-forth. Instead you have one scheduled time to communicate.
2. Checklists
Another way to monitor and manage your virtual team's productivity is to use checklists. For example, you might give your virtual assistant 30 tasks to complete. You can publish the checklist online and give them access to collaborate on the checklist. Rather than spending time checking in with the VA or asking for status updates, you can simply view the checklist and see what they've checked off.
3. Milestones
Another productivity idea that works for larger projects is called milestones. Many project management tools have calendar systems where you can divide a project up into a series of steps or milestones. When a milestone is due, it sends a reminder message to the contractor. It helps keep you informed and your team members on track.
4. Project Manager
Another useful tip for monitoring and managing your virtual team's productivity is to use the services of the business manager or project manager. This person is someone that essentially manages your team of contractors for you. They can serve as the single point of reference to make sure that all of your other contractor projects are on schedule. It saves you time because you only have to talk with one person each week. Your manager deals with the contractors for you.
5. Accountability
Making your teams accountable to one another for the progress of a project is another way to manage your team's productivity. If everyone's tasks are dependent upon receiving something from another contractor, then you'll be kept in the loop when products or services are not delivered on time.
For example, if you were working on launching a new service and your virtual assistant has not received the finalized copy of your sales page which they need to upload to your website, then the copywriter is accountable to the virtual assistant for the completion of their portion of the project. Accountability is another way to help motivate each contractor to follow through and stay productive.
6. Scheduled Tasks
Finally, another way to monitor and manage the productivity of your team is to schedule tasks. For example, if you have three different virtual assistants managing three different aspects of your business then you might schedule each one for a different day. Assistant A might take care of affiliate marketing on Monday, assistant B takes care of social media on Wednesday, and C takes care of blogging on Friday. Scheduling tasks helps you and your virtual team stay on track and make sure there is time for everything.
Finding ways to monitor and manage productivity without being a micro-manager is key to your success. The good news is that there are a number of options to consider. You might find that a project management system is exactly what you need, or you may prefer simple checklists and weekly status updates. Find what works for you and use it to streamline and grow your business.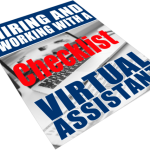 And now I would like to invite you to claim a free gift.
It's my "How to Hire and Work With a VA" checklist and it's yours free when you click here
Remember when you started your business, and you were so excited about learning all the new tools and technologies?
Now, though, things have changed. Your time is far more valuable than it was back then, and wasting it on tasks you're not good at – or that you hate – is not helping your business to grow.
It's time to think about hiring some more help. It's time you considered how outsourcing those tasks can actually make you money. And this checklist can help!
Visit http://DelegatedtoDone.com/va-checklist to get your copy today.