If you're like most business owners, there are tasks that you tend to repeat on a monthly, weekly or even a daily basis. This includes tasks such as:
• Creating products.
• Writing content.
• Updating your blog.
• Fulfilling orders.
• Handling customer service.
• Hiring freelancers.
• Doing your taxes.
And much more.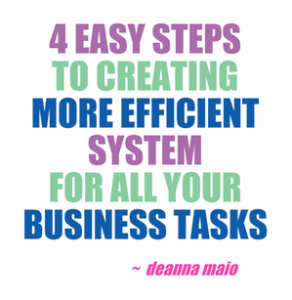 Many of these tasks are time-consuming; some of them are even tedious. And that's exactly why you need to start developing efficient systems for dealing with many of these tasks.
This is especially true if you've always done the task in the same way, without ever considering that there may be a better or more efficient way of doing it.
Below you'll find the steps for creating efficient systems. Yes, it takes a little time upfront to create these systems, but you'll save time in the long run, making it well worth the investment.
Step #1: Outline the Steps of the Task
You're going to want to look at each of your business tasks individually. Start by outlining every single step you take to complete a particular task. For example, the task of outsourcing a writing task might look like this.
Search Google for a writer.

Search the WarriorForum.com for a writer.

Post a project on elance.com.

Do the due diligence on the freelancers (list all the steps you take here, such as checking portfolio samples, checking references, etc).

Hire a writer (list all the steps you take, such as signing agreements).

Creating a detailed project brief.
Note: You'll note that my sample above is somewhat abbreviated. When you list your actual steps, you'll want to be as detailed as possible.
Step #2: Examine Each Step Individually
Now that you've listed every step in great detail, I want you examine each step. Ask yourself: "How can I make this step more efficient or otherwise better?" Then brainstorm at least two or three different ways to improve this step of the process.
Let's go back to the freelancer example, where one of the steps is to post a project on Elance. You could improve this step by:
Creating templates so that you never have to waste time creating an advertisement completely from scratch.
Inviting trusted freelancers to bid on your project (which actually saves you time at the "due diligence" step).
Step #3: Get Input from the Experts
Now that you've gone over the process in detail, it's time to bring in other experts. This includes:
Your colleagues. They're regularly performing the same tasks, so they likely have some good ideas, tips and tricks for streamlining your process
Your freelancers and employees. Not just any freelancers and employees, but the ones who're performing at least part of these tasks. They can help you by giving you tips to be more efficient. Or you can brainstorm together to help them perform the task better and/or more efficiently.


Tip:

Time is money for your freelancers and employees. As such, be sure to pay them for their time spent brainstorming. For example, you might get them on a one-hour Skype call, being sure to inform them upfront that they'll be paid at their regular hourly rates for this hour.
Step #4: Put it All Together Into a System.
You've examined ways you can make a task more efficient. You've asked experts for their tips on making a specific task more efficient.
Now your next step is to pull all this information together into an efficient system, like this:
Write down the new system. This reinforces the steps so you remember how to do the task more efficiently the next time you actually have to do it. And if someone else is doing the task, such as an employee, then they'll know how you want them to do it.
Gather and/or create your time-saving tools and templates right away.


Example:

If you're creating a system for writing articles more efficiently, then you might get a subscription to WordTracker.com for the next time you need to do keyword research. You might also compile a list of article title templates, to make titling a quick and easy task.
Conclusion
There you go – four easy steps to creating more efficient systems for all your business tasks. It does take extra time upfront, but the time you'll save in the future – along with the better results you'll get – are more than worth it!
---
And now I would like to invite you to claim your Free Instant Access to my special report…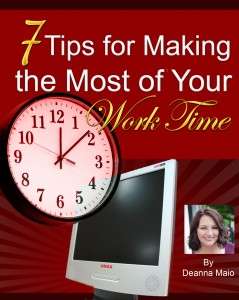 "7 Tips to Get More From Your Work Time"
Yours free when you visit http://www.7TimeTips.com
You'll learn:
How and why to identify your most hated tasks.

How to identify your biggest distractions – and eliminate them from your daily work life.

Why setting goals is critical to your productivity success.

The one thing you MUST do – even though it's counter-intuitive – to ensure greater productivity.

How to schedule tasks according to your own rhythms, so you can stop fighting with yourself and get more done.
We all want to get more done – but few of us really take the time to plan our workflow and make it happen. Take the first step with this short report and discover what it's like to be truly productive. Just visit http://7TimeTips.com
From Deanna Maio – Systems & Implementation Strategist at http://DeannaMaio.com