I hope you're having a joyful day! It's much cooler today here
in the great Pacific NW and I'm enjoying working outside. I feel so
much happier when I'm not couped up inside. Do you?
If you've been wanting to set up your own affiliate program or
you'd just like to overhaul your existing program, you'll want
to check out my pal Melissa Ingold's Affiliate Program Set Up
project toolkit that is jam packaged with fill-in-the-blank forms,
templates, checklists, tools and more – to fast-track your business
projects from start to finish.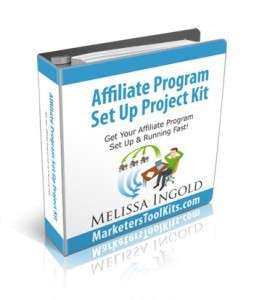 AND what's really awesome, is that you have permission to hand
this project toolkit over to your virtual assistant or intern so she/he
can set it all up for you.
So whether you outsource this or do it yourself, you'll want to
grab a copy now while it's only $10 (but only until Friday!)
Then click on her outsourcing toolkits page. It's listed
there for  just $10 until Friday!
This project tool kit will help you set up (or overhaul) your
affiliate program and includes:
* Editable Affiliate Training Manual (7 pages)
* Email Swipe File with 9 Different Emails (for new affiliates
and to recruit them)
* Easy Affiliate Pages (signup and tools page)
* Affiliate Software & Networks Guide
* 6 Printable checklists
Again, you can use this kit for yourself, give it to your virtual
staff, or use it for a client.
Get FULL details, see samples and screenshots right here:
==> Outsourcing Tookits
(or copy and paste this link into your web browser:
http://melissaingoldmarketing.com/products/aff/go/deannamaio/?i=37)
Thank YOU and I hope you have a beautiful rest of your day!
🙂
ps: Hey, I know you already know all this, and it's common sense but,
I like to follow FTC guidelines that require that this be specifically stated
to avoid confusion. Products, experts, or programs, linked to from this
email may be done with affiliate links, which may earn me a commission.
This does not mean you will pay more for the products by using these
links and it doesn't mean I will promote stuff I don't fully believe in just to
earn  a commission from your purchase. Enough said.