I know it's a Sunday on a holiday weekend and I hope you're out of your office, not reading this.
But, if you are, and you're working, perhaps it's a sign it's time to get a little help?
You may be thinking…but, Deanna you're at your computer too. Isn't that "not" walking your talk? Isn't it "Labor Day" weekend when you're not supposed to work?
There's a big difference between working when you want to and working because you feel like you have to….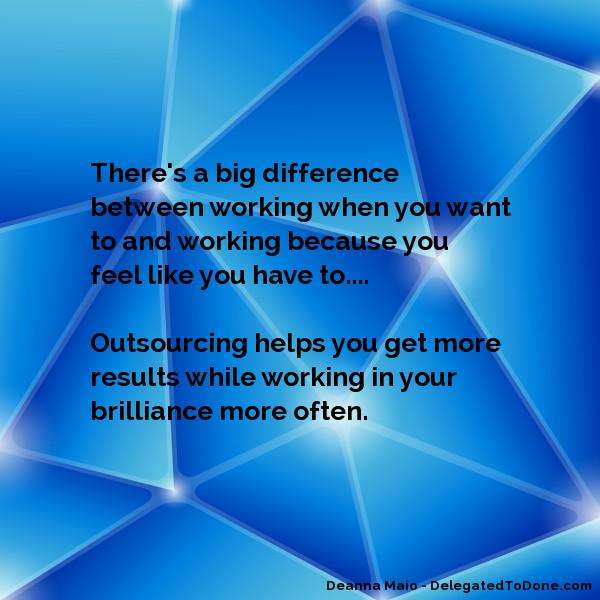 And there's an even bigger difference between doing work that keeps you in your brilliance and slugging through tasks you don't like or aren't good at.
It's the difference between your business growing or not.
I love working Sundays. My guy is gone most Sundays doing his hobby. It's quiet here and I do a little creative work (like sew, draw, make music or make new recipes), reserach new tech tools (I love to geek out) , and sip on my tea…it makes it leisurely. It's not work…
Plus I'm doing things that I enjoy and are "at my pay grade." Writing copy, writing you, and strategizing my businesses direction…things I generally don't outsource to my team.
I'm not sitting here struggling to create a graphic for my next info product, trying to figure out how to use my autoresponder, trying to decide how I'll use LinkedIN to fill my next event or wondering why I can't get the images on my WordPress website to look the way I want.  My team does that for me.
And now they can do that for you too.  
My amazing administrative and technical support team has a little extra time in September. And now you can hire them to work for you.
You can get 5 hours of virtual administrative and technical help from my trained team for just $175. 
In a hurry to grab yours,  click here.
Here's just a sampling of tasks they have been doing for me and my clients that they can do for you:
Set up squeeze/opt-in or sales pages on your WordPress website (including using OptimizePress and Leadpages)
Install plugins on your Website or trouble shoot why it's not working the way you want
Post articles to your blog and find a royalty free image that "goes with it."
Create messages, opt-in forms, or sequences in your OAP/SendPepper/MailChimp/Infusionsoft or Aweber account
Schedule social media posts for you using Hootsuite, Buffer, or another tool you specify
Set up products or services in your Office Autopilot, Infusionsoft or PayPal shopping cart
Format documents to look good and match your brand
Write Social Media Messages you can share on Facebook, Twitter, or LinkedIn from your existing content, articles, and blog posts
Do boring data entry into your CRM, email system, into a spreadsheet, etc. (like take the business cards you got at that networking event from your scans or pictures of them and type them into your database)
And so much more…
Normally their time is worth $50/hour for these kind of tasks (which is still a steal!)
But since they've got some time free, you can hire my team this month for just $175 for 5 hours . (that's a 30% savings)
And there's a lot they can do in 5 hours…plus we track time worked to the minute…not 15 minute increments like a lot of other virtual assistants.
There are just 4 packages left:
=== >   Get Your Hours Here (redirects to investment page)
(or copy and paste this link into your browser:
http://now.delegatedtodone.com/enroll-va5)
After you register, we'll ask for a few basic details to setup your account and get you started.
(if the link no longer works, it's because all 10 spots are taken…sorry!)
If you've had admin and technical tasks you've been wanting to get off your plate, and you're been waiting for a sign…
This is it! This is your chance to get them off your list and finished, once and for all.
We'll set you up with a private area in our project management system where you can just email the tasks and files we need, you'll have direct access to us, and you can see the status of tasks and time used. It's super cool.
Not sure this is for you? Email me. I'm around today. Just reply to this message with your phone number and I'll give you a call. We can talk about it and make sure these 5 hours are going to serve you.
These hours are good till December 31 2014 so you have plenty of time to use them…though I don't think it will take you that long. (especially with the free gift attached to jump start your thinking)
Ok now I think I'll watch some makeup videos on YouTube…cause that's how I roll on a Sunday.  🙂
–Deanna
P.S. If you're interested, sign up  now. We won't be able to take on more than 10 clients.